Raisin' Praises Craft
31 Days of Praise in the Book of Psalms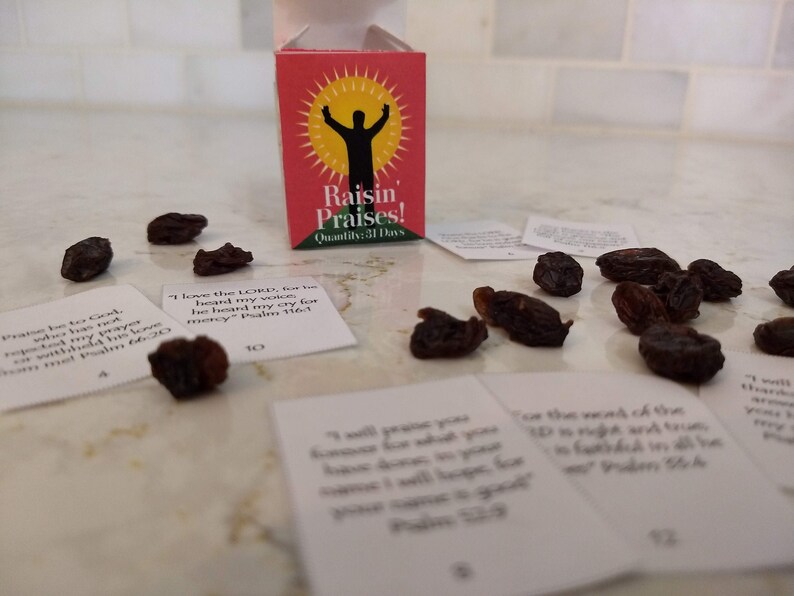 Why should we praise our Great God? Because he is merciful and has saved us for eternity!
Before presenting this craft, help children understand why God is worthy to be praised. Everyone needs to know what we've been saved from: eternal death. Our sin separates us from our Holy God.

The Roman Road is an evangelistic tool using seven key verses from the book of Romans to convey the Gospel message.
Romans 3:10 "There is no one righteous, not even one. . ."

Romans 3:23 " . . . for all have sinned and fall short of the glory of God. . . "

Romans 5:8 "God demonstrates his own love for us in this: While we were still sinners, Christ died for us."

Romans 6:23 "The wages of sin is death, but the gift of God is eternal life in Christ Jesus our Lord."

Romans 10:9-10 "If you confess with your mouth, Jesus is Lord," and believe in your heart that God raised him from the dead, you will be saved. For it is with your heart that you believe and are justified, and it is with your mouth that you confess and are saved."

Romans 10:13 "Everyone who calls on the name of the Lord will be saved."
The Raisin' Praises craft encourages children to praise God! Each day, before a meal or to start or end your day, pull a card out of the Raisin' Praises mini box and read it. But don't just read it, think about it too, and then offer it up to the Lord as your personal prayer! Available exclusively on our Etsy Platform! Learn more.
Subscribe to our Newsletter - Learn More
Help keep the site going!

Site Map