I AM the Good Shepherd
The Greatest Gift
Read Psalm 23; John 10:11-18

When I was a child my mother read Psalm 23 to me each night as she tucked me into bed. By the time I was four years old I had memorized it. Thinking back I suppose that is the greatest gift she gave me. Over the years this Psalm has been a great comfort as I've walked the shadowed paths of life. I am reminded that the Lord is near, he cares for me, and continues restoring my soul from the many trials and traumas I've experienced.

In Bible times, kings were often called shepherds. When King David wrote this Psalm, God used his experience as a young sheepherder to tell the Israelites of a greater Authority over them, declaring, "Yahweh* is my Shepherd. . ." By this, he acknowledged the God of Israel, the "I AM Who I AM," as his Shepherd-King.

Jesus used similar language to identify himself when he announced, "I am the Good Shepherd." He fulfilled the promise from Ezekiel 34. In that passage, God pronounced judgment against the shepherds, Israel's leadership, for not caring properly for his people. He said, ". . . For thus says the Lord GOD: Behold . . . I myself will be the shepherd of my sheep . . . I will seek the lost, and I will bring back the strayed . . ."

As we celebrate the risen Savior this Easter season, it is encouraging to know that Jesus, our Good Shepherd, seeks us out and pursues his children with goodness and mercy. Our Shepherd-King took the rod of punishment we deserve. He died on the cross to forgive our sins and overcame death so that we can live with him forever!
In reality, the greatest gift my Mother gave me wasn't helping me memorize a beautiful poem about a shepherd; no, she introduced me to The Shepherd, so that I never walk alone.
You can have the greatest gift too! "For God so loved the world, that he gave his only Son, that whoever believes in him should not perish but have eternal life" John 3:16 (ESV).

*Yahweh's name is most often translated as LORD, because it is considered too holy to be pronounced. (See also Exodus 3:13-14; Ezekiel 34:11-16; Matthew 18:12-14.)

Copyright 2021 Sarah A. Keith
Get our Psalm 23 digital bookmark on our Etsy platform or get it free when you purchase our Psalm 23 - The Good Shepherd children's Bible lessons.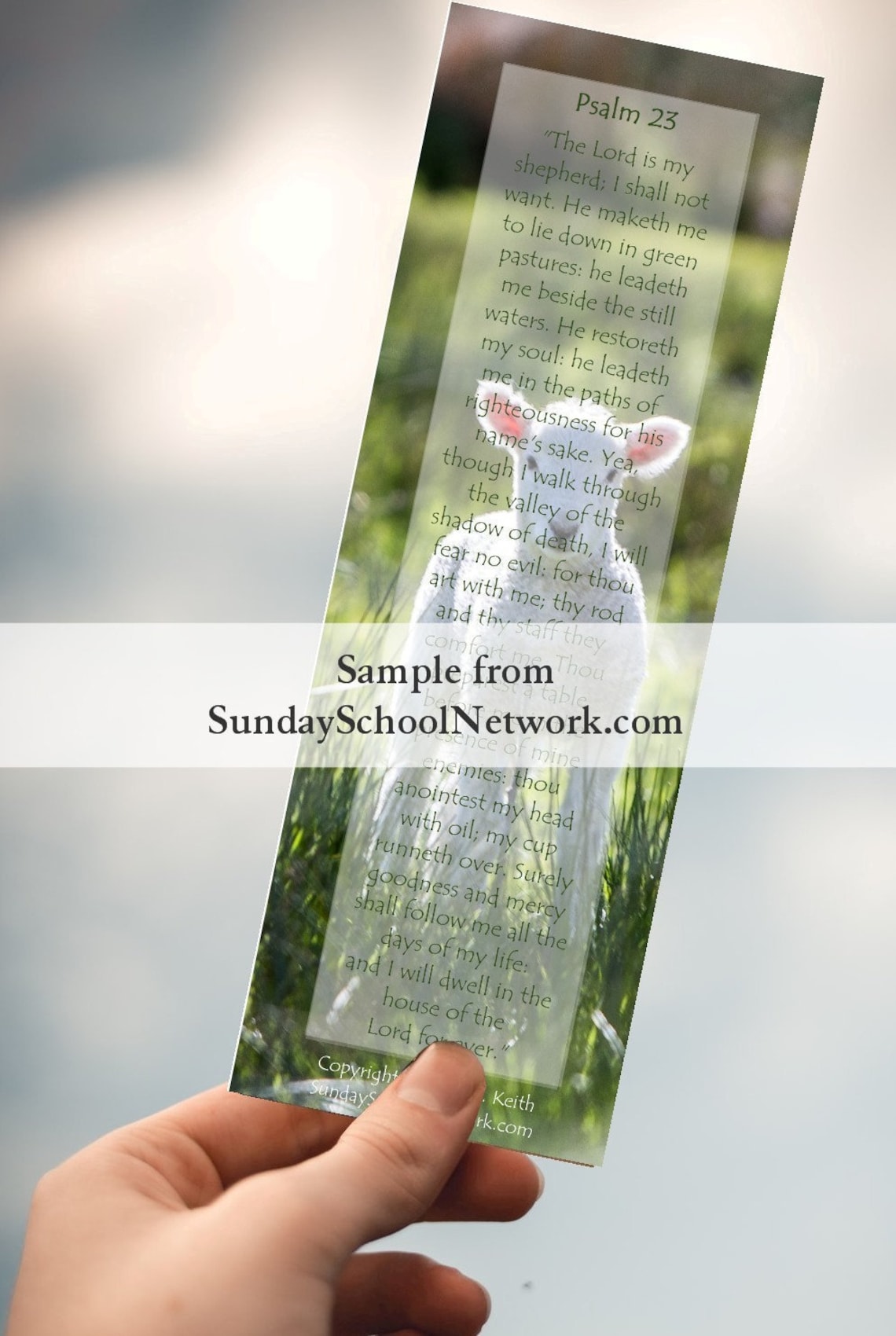 Teach the I AMs of Jesus to children. Check out our Bible lesson plans,
"HIS Name Shall Be Called . . ."

Return to the Adult and Teen Devotionals page.

You can make a difference!
Your donation to the site helps us distribute our children's ministry resources to churches across the world.
Subscribe to our Newsletter - Learn More
Site Map