Casting, Throwing, Giving!
Adult Devotional | By S.A. Keith |
Get the FREE audio version
.
Today's Verse: "Cast all your anxiety on him because he cares for you" 1 Peter 5:7 (NIV).

She was surrounded with what appeared to be all of her worldly possessions. (If you live near a city, you've probably seen a soul like her too.) What happened to her? I imagined those bags symbolized the burdens she carries. As I sat in my car waiting for the light to change, I wondered about the burdens I sometimes carry. Today's verse came to mind, "Cast all your anxiety on him because he cares for you." Yes, Lord, help me to understand, I whispered. Help me to put down my burdens. And Lord, please help this poor soul who's teaching me a deeper truth today.

As I studied the passage, I never appreciated today's verse being closely tied to humility and submission. In verses 1-5, the Apostle Peter gives instruction to God's elect leadership regarding how they should serve their flock, and how the flock should respond: "All of you [the leadership and those entrusted to their care] clothe yourselves with humility toward one another."

Peter then drops a truth bomb: "God opposes the proud, but gives grace to the humble." (Sadly, in our culture, pride is no longer thought of as a negative character trait. It is important to remember God says otherwise.)

Thankfully, we aren't left hanging without a solution (the Lord knows, we can't do anything righteous apart from him). Peter continues, "Humble yourselves, therefore, under God's mighty hand, that he may lift you up in due time. Cast all your worries on him because he cares for you."

I find it helpful to use multiple Bible translations when studying a verse. I really like using Biblehub.com*. They also have a helpful app for your phone. Within the website and app you can select the INT option (for interlinear) to read the original language, along with a concordance to explain the words. By doing this, you get a better understanding of the original Hebrew or Greek language in which the Bible was written. I particularly like the Amplified Bible version: " . . . casting all your cares [all your anxieties, all your worries, and all your concerns, once and for all] on Him, for He cares about you [with deepest affection, and watches over you very carefully]."

This imperative—to set our burdens down, casting aside our worries, cares, concerns, and problems—begins with humility of mind. We must admit, "Lord I can't, but you can." However, don't miss the second part of the verse as to why God does this, "he cares for you!"

We are to cast, throw, and give, our worries to God, because he cares about us!

Now, let's look more closely at three words in the Greek from verse 7 that are super-charged with encouragement:

We are to give "ALL" of our worries to God—every part that applies!
3956 /pás ("each, every") means "all" in the sense of "each (every) part that applies." The emphasis of the total picture then is on "one piece at a time." 365 (ananeó) then focuses on the part(s) making up the whole – viewing the whole in terms of the individual parts.

Because God "CARES," he takes special interest in and pays special attention to you!
3199 mél (the third person singular of mél, "to care, be concerned") – to care about (be concerned with), especially paying attention (giving thought) to – i.e. "taking an interest" (L-S) with the "implication of some apprehension . . .

God cares "ABOUT" you! He's got all the bases covered that concern you!
4012 perí (a preposition) – properly, all-around (on every side); encompassing, used of full (comprehensive) consideration where "all the bases are covered" (inclusively). 4012 (perí) is often translated "concerning" ("all about").

So why does it take humility to cast our cares on Jesus? Because in that humble attitude, we confess that we are unable to carry our burdens; we admit that we need Jesus! This isn't a one and done event. It's an everyday, sometimes every minute, process of giving our cares to Jesus.

Prayer
Dear Lord, as I meditate on these verses, please loosen the straps of my burdens, and allow them to slip off my shoulders and onto yours. Thank you for caring for me. Amen.

Copyright 2021 S.A. Keith
Photo credit to: Ilse Orsel @unsplash.com



*No financial compensation is derived from suggesting this app.

Learn how you can download my Christian printable poster as seen, below.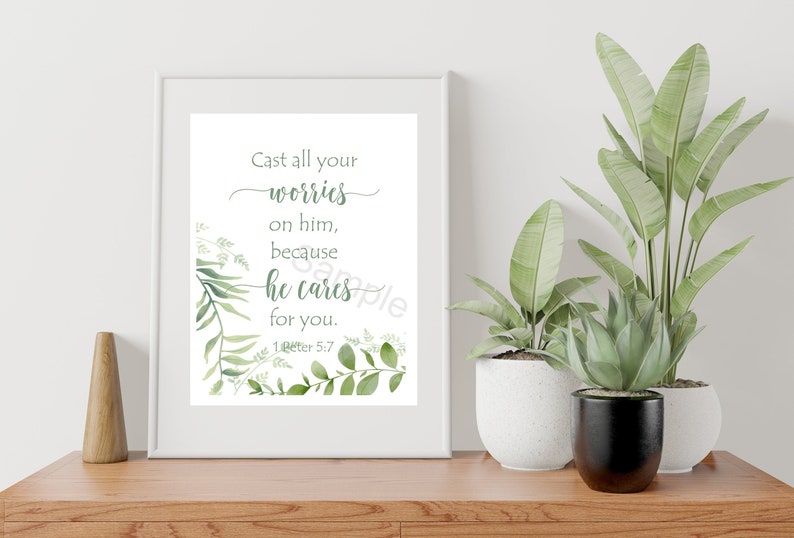 Return to the Adult and Teen Devotionals page.

You can make a difference!
Your donation to the site helps us distribute our children's ministry resources to churches across the world.
Subscribe to our Newsletter - Learn More
Site Map