Bible Pop Quiz
B
asic
I
nstructions
B
efore
L
eaving
E
arth


OBJECTIVE
We can go through life thinking we are doing the right things, and going the right way, but if we haven't read the instructions, the Bible, we are headed in the wrong direction.

The following questions were written for my fifth and sixth grade boys' Sunday school class. You can use the questions provided or make up your own. Just make sure you word the instructions the same way and keep the last three questions intact! I was sure some of the boys would catch on and follow the instructions. I was wrong! Everyone one of them dove headfirst into the Pop-Quiz complaining that it was too much like school, or I can't answer these questions! I just responded sweetly, "Oh, I'm sure you can, it won't take you as much time as you think. Give it your best shot!"

I would have let them finish the Pop-Quiz, but we ran out of time. I stopped them after 25 minutes and told them to read question #16. One by one a light bulb came on, and were they moaning and groaning! (I have to admit, I got a kick out of this!) I'm pretty sure those boys will remember this lesson!

Afterwards, we discussed the fact that everyone of them thought they were sincerely doing the right thing, but they weren't! They had missed the instructions and were doing the wrong thing. So it is in life, we can be living our lives thinking we are doing what is right, only to find out that we didn't know what was right! We must know what the Bible says, because it truly is our Basic Instructions Before Leaving Earth! Jesus said, "I am The Way, The Truth, and The Life. No one comes to the Father except through me" (John 14:6).
(The last two questions, #17 and 18, are a great way for teachers to determine where their students are spiritually. I usually give these questions near the beginning of the year so as to work on some basic principles right away! To continue leading your class to understand the answers to #17 and 18, visit The Roman Road—an easy way to share the Gospel message.)

Click here to get the Bible Pop Quiz questions.

ALSO, don't miss our B.I.B.L.E. poster available on our Etsy platform: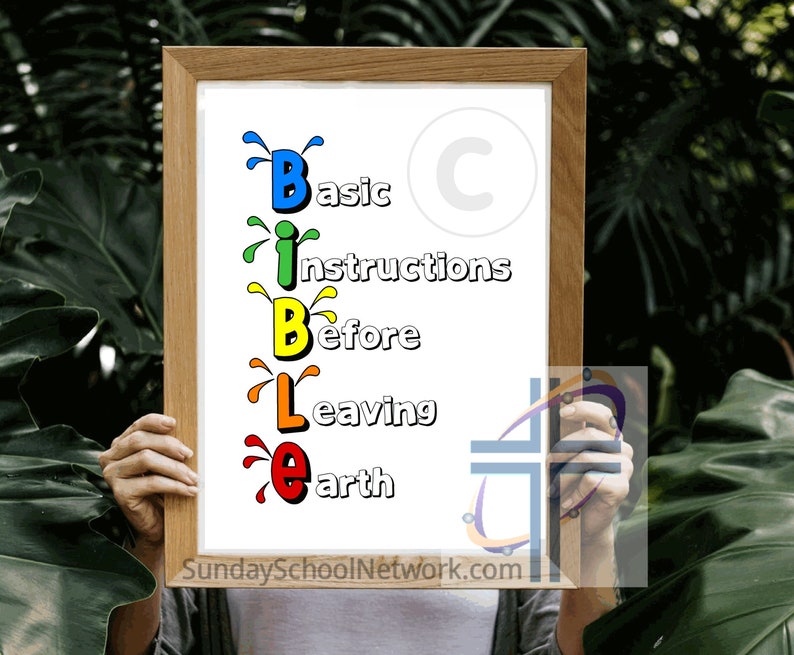 Copyright 1999 S.A.Keith--For classroom or home use.
Not for resale or distribution without the written permission of Sarah Keith.

Do you have a Bible game you want to share? Email submissions@sundayschoolnetwork.com
Help keep the site going, support our site!

Subscribe to our Newsletter - Learn More
Site Map