Get access to FREE Kids Sunday School Ideas when you subscribe. Make sure to check your inbox or spam folder for our confirmation email and then add us to your address book to insure delivery - Learn More
Our
Bible lesson plans
are teacher-friendly, easy to prepare and are versatile for Children's church lessons and multiple-aged Christian classes. Use our Bible curriculum in Sunday school, kids' church, midweek programming, and Bible clubs too!
We offer a wide variety of
Bible Curriculum
,
Children's sermons
,
Bible games,
Christian crafts
, and
Biblical skits
for the spiritual development of children and to make lesson time fun!
Also, don't miss our printable Bible Posters to liven up your classrooms, as well as coordinate with your lesson plans!
" . . . be steadfast, immovable, always abounding in the work of the Lord, knowing that in the Lord your labor is not in vain" 1 CO 15:58.


The Twenty-Third Psalm
Printable Bible Poster
The Twenty-third Psalm was written as if a sheep were telling his friends about his great and loving shepherd and how he faithfully cares for him. The Bible tells us that Jesus is the Good Shepherd of those who follow him. He knows his sheep and the sheep know him.
This beloved Psalm is important to memorize for life--for children and adults--and is displayed here in the classic, poetic text from the King James Version. Our
Psalm 23 Bible poster
is exclusive to our
Etsy platform
, and is the perfect compliment to our
Good Shepherd Bible lessons
.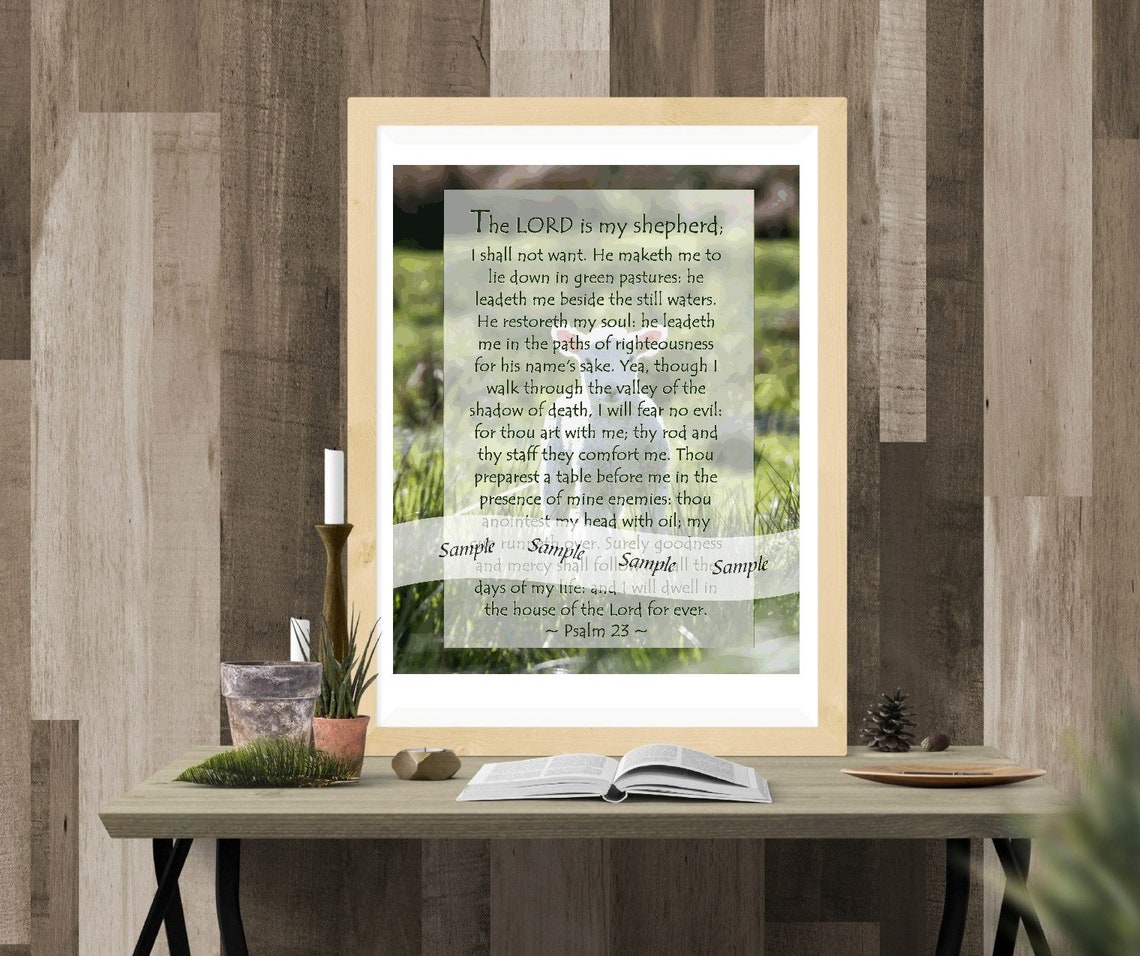 Beatitudes Memory Cards
God's Kingdom Rules
Use our Beatitudes memorization cards to learn about living in God's kingdom! Print and hang them in your home--in your bedroom, on a bathroom mirror, or place them on your dining table. Keep them in your car or at the office. Tuck them in your wallets and purses, and then pull them out and read them throughout the day. Before long, you will have memorized them and hidden them in your heart! (Psalm 119:11) Exclusive to our Etsy platform.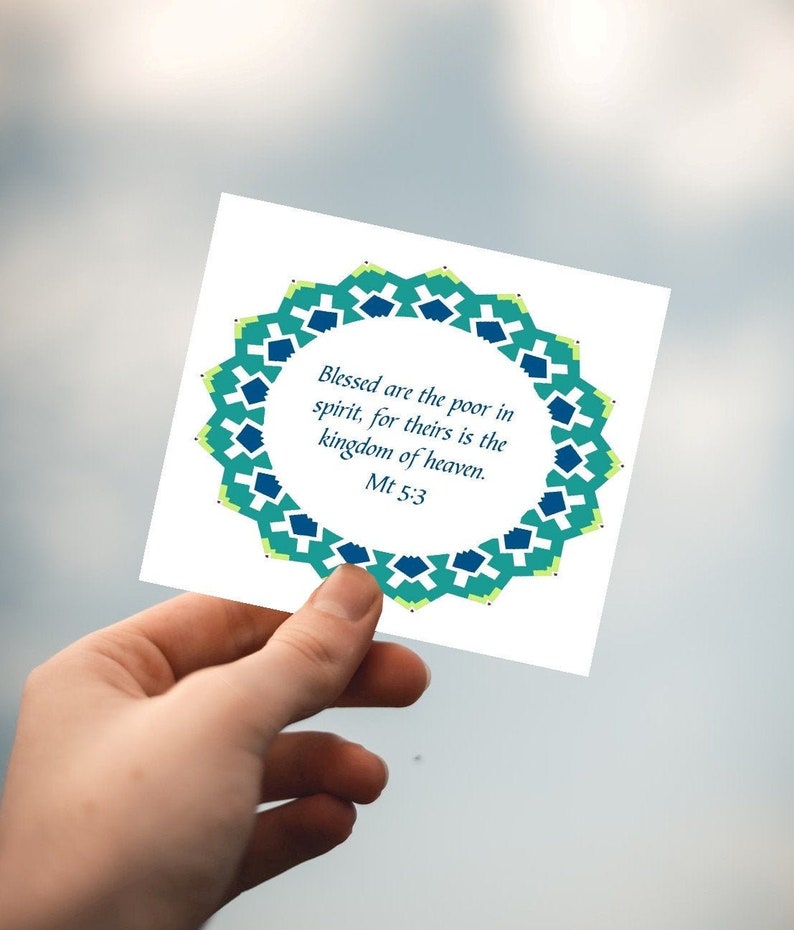 Repent Bible Skit
The Kingdom of God is Near
The Feast of Trumpets is the first of the fall feasts. It occurs on the first day of the seventh month, during our September or October months. The month leading up to the Feast of Trumpets is to be a time of repentance. God's people are to consider their sins, turn from them and repent, turn to God. The following sample skit is from "Lesson Five: The Feast of Trumpets," from the book, Come Celebrate the Feasts of the Lord, They Show Us Jesus.

Bible Reference: Matthew 3:1-17; 4:1-11

Choose your actors: Narrator, John the Baptist, Jesus, Pharisees, Sadducees.

Actors read their parts or teacher narrates while actors pantomime their parts.

Narrator: In those days John the Baptist came, preaching in the Desert and saying. . .

John: Repent! Turn from your sins, for the kingdom of heaven is near. Pay attention! Wake up! Get ready, because the Lord is coming soon!

Narrator: John wore clothes made of camel's hair, with a leather belt around his waist. He ate bugs and wild honey too. People came from everywhere to see and hear him. They came admitting their sins to God and were baptized by John in the Jordan River.

Pharisee: (to Sadducee) Have you heard about this crazy man named John the Baptist?

Sadducee: Yes, Let's go see what he's doing!

John: (to Pharisees and Sadducees) You snakes! Your lives show no proof that you follow God.

Pharisee: Don't talk to us like that.

Sadducees: Yeah, because we're sons of Abraham!

John: Just because you're related to Abraham doesn't mean you can escape God's punishment. God could turn a rock into one of his children if he wanted to! God's judgment is coming and your lives show no proof that you serve him! I baptize with water, but there is someone greater than I coming—I'm not even good enough to carry his shoes!

Pharisees and Sadducees: Tell us, who is this man?

John: When he comes, he will know . . . (END of Sample)

The remainder of this skit, including a lesson, craft, and game are part of Lesson Five, The Feasts of Trumpets, from the book, Come Celebrate the Feasts of the Lord . . . They Show Us Jesus.


The BE-Attitudes
Adult Devotional | Sample Chapter One


"I just can't get over it!"

Most of us, if not all of us, at one time or another have to deal with experiences in our past or current life that make us stumble in our faith or that cripple us emotionally. It could be something as severe as being physically or sexually abused as a child, or a feeling that our parents didn't give us the proper attention we needed growing up. Maybe it's a broken friendship or business plan gone sour, or a disappointment so deep that you can't get past it. Whatever "it" is, many times these painful experiences can affect us the rest of our lives, preventing us from reaching our greatest potential or eventually destroying us. Trying to "get over it" doesn't work. We try and fail, and "it" goes round and round in our minds, blocking us from receiving what God intends for us. Thankfully, there is an alternative. God can heal our pain, so we can live productive, God-approved lives.

If you feel powerless to overcome your pain, there is hope. You are about to discover that the Beatitudes are the key to unlocking your spiritual and emotional well-being, so you can "get over" the painful experiences in your life—past and present—and have hope for the future!

The Beatitudes are the eight declarations made by Jesus at the beginning of his Sermon on the Mount, recorded in Matthew 5:3-12. Each one begins with the words, "Blessed are," and continues with a statement concerning those who live in obedient and joyful unity with God. They are for those who partake in his salvation, and who have entered into his kingdom, not in its fullest sense, but as a foretaste of what's to come.

The word "blessed" is from the Greek word, "makarios," which means, happy, well off, or fortunate. Some Bible translations use the term happy, yet happiness most often depends on one's emotional state—it is temporary. On the other hand, blessed also means favored, which more accurately describes the spiritual harmony of a person who is in relationship with the King of the universe—it is eternal . . . Keep reading.
Site Map
Bible Lesson Plans and Sunday School Curriculum
Bible Games for Kids Sunday School
Bible Skits & Christian Dramas
Christian Crafts for Sunday School
Classroom Bible Posters
Holidays & Holy Day Ideas for Children's Ministry
Scripture Graphics
Social Media
Etsy
Facebook
Instagram
LinkedIN
Pinterest
Twitter


Featured Videos

Ministry Partners
Pastoral Resources
Search on: AOL - Bing - DuckDuckGo - Google - Yahoo